COMFORT OPTIONS – HEATERS & HEAT PUMPS
A Warm Welcome Every Time
Heaters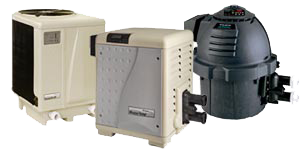 A heater helps you get more enjoyment out of your pool or spa by allowing you to spend more time in it. Nothing beats a heater for adding comfort to early morning lap sessions, after-dark swims or to extend your swim season to earlier in the spring or later in the fall. The key to pool heating economy is combustion efficiency…making sure the heat that is generated is transferred to the pool water with as close to 100% efficiency as possible. Today's high efficiency gas heaters heat up fast. They are economical to run. And they're built to last.
We Recommend:
MasterTemp® and Max-E-Therm® heaters are eco-friendly, user-friendly, and energy-efficient with forever rustproof exteriors. Plus, they are our Eco Select® brand choices for heaters.
Heat Pumps
Heat pumps work by transferring the heat from the outside air to your pool, providing the most energy efficient pool and spa heating available in regions where they are practical. Compared to other heaters, heat pumps can operate for up to 80% less, saving you hundreds of dollars in energy costs each year. They're also clean and safe to operate. Talk to your pool professional to determine if a heat pump is appropriate in your region.
We Recommend:
UltraTemp® heat pumps are one of the most energy-efficient choices available. Plus, it is our Eco Select® brand choice for heat pumps.