PERIMETER & LANDSCAPE LIGHTS
Showcase your landscape and pool perimeter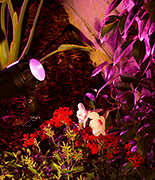 Don't limit the light show to your pool and spa. Color-changing lights for pool perimeter and landscape add to the nighttime magic in your poolside environment.
We Recommend:
LED color-changing landscape lights
Simply the most dramatic and energy-efficient lighting option available today, IntelliBrite® color-changing landscape lights can match your underwater pool and spa lighting, your mood, or any special event. IntelliBrite LED color-changing landscape light consume 92% less energy than even 12 volt systems and are a Pentair Eco Select® brand choice. It features the same color shows and fixed colors as IntelliBrite color-changing pool and spa lights and can be synchronized for coordinated or complementary lighting effects!