CONVENIENCE OPTIONS – PRESSURE-SIDE AUTOMATIC CLEANERS
Pressure-Side Cleaners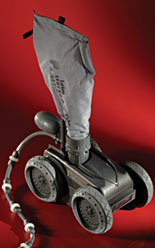 Pressure-side cleaners attach to the return (pressure side) of your circulation system. This is the side of the plumbing that returns clean, filtered water to your pool. Pressure-side pool cleaners use the power of the water pressure to pick up dirt and debris and collect it in an attached bag. Many also have their own hydraulic power plant inside for additional power.
Pressure-side cleaners have several advantages:
They help distribute clean, filtered water around the pool.
They don't put extra pressure on the filter system.
We Recommend:
Our innovative design for the Legend® Series is the key to faster and more reliable cleaning. Hydrodynamic body gives all models stability in any inground pool. Their powerful vacuum action easily removes large debris—even twigs and pebbles. Legend® Platinum™ also has treaded wheels for superior traction. Legend® II is our Eco Select® brand choice for automatic pool cleaners.