CONVENIENCE OPTIONS – SUCTION-SIDE AUTOMATIC CLEANERS
Suction-Side Cleaners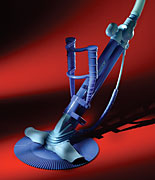 Suction-side cleaners attach to one of the suction ports in your pool—the plumbing that pulls water out of the pool to be filtered. Usually, this port is the skimmer, or your pool may have a separate vacuum port especially for a pool cleaner. With the hose attached and the filter pump running, suction is created on the underside of the cleaner. The cleaner moves around the pool with motion created by a device that gives a stop/start pulsing of water. Dirt and debris is sucked up by the cleaner and then through the hose, past the suction port, through the pipe, and is trapped in the filter pump strainer basket.
Suction-side cleaners have a couple advantages:
They rarely require any additional parts or adapters to connect to any pool.
Typically, they are the least expensive automatic cleaner type.
We Recommend:
Legend®, Great White®, Kruiser™ and SandShark™ all provide optimum cleaning performance, simplicity and convenience. When you purchase any of these cleaners in 2012, you receive a cash back rebate.