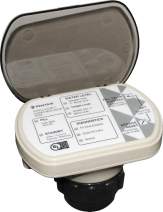 IntelliLevel™
Automatic Water Leveling System
Introducing the new generation of water leveling for residential pools!
With its multi-sensing technology, simple set up and ease of use, the IntelliLevel brings a new standard of water levelling technology to new construction residential pools. The IntelliLevel keeps the water in your customer's pool or spa at a constant level, preventing waste or the overflowing of pool water.
Features
Installs entirely on equipment pad.
No additional pipes or wires to run to or from skimmer or elsewhere to pool.
Monitors fill amount and fill time and indicates current water level in the pool.
Maintains weighted average of fill rate.
Alerts user if fill fails.
Fills desired amount in a single fill.
Identifies flow rate deviation.
Indicates pump activity.
Watermark compliant solenoid valve and check valve included.
Conventional pool water fillers use mechanisms designed to fill toilet cisterns! Don't rely on these to maintain the pride of your property. Install IntelliLevel™ on your pool now.