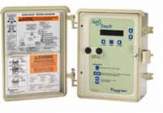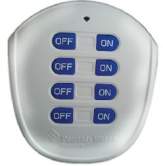 SunTouch®
Solar Control System
SunTouch Control System is the easy way to keep your pool and spa clean, comfortable, and ready to enjoy. With the touch of a few buttons, you can quickly program your pool and spa filtration and heating cycles to fit your schedule. And it's just as simple to change programs or switch to manual mode for those unplanned, spontaneous plunges. With SunTouch, your pump and heater automatically run whenever you want, for as long as you want so your pool and spa are always warm and inviting.
In addition to controlling your pump and heater, the standard SunTouch package has the ability to schedule operation of additional functions, such as your lights or automatic cleaner. You can also add a third valve actuator to automate a solar heating system or water feature.
The SunTouch can be controlled via the wireless remote QuickTouch II. With the QuickTouch II remote, you can add even greater convenience and portability to your automated control system. At the touch of a button on your handheld remote, you can prepare your pool or spa for relaxation from the comfort of your poolside lounge—or almost anywhere up to 75m from your pool equipment area. The QuickTouch II instantly activates water features and functions. It controls up to four functions with separate on/off buttons control each function for optimum simplicity.
Features
One touch function - no complicated routine to memorize
Ability to program pool and spa and two additional features. All circuits in the system can control four operating schedules (maximum six total schedules per system)
Supports 4 features circuits for programming convenience
Compatible with gas or electric heaters, heat pumps, and solar systems
Temperature control can be set in one degree increments
Supports one IntelliFlo® VS or VF Pump and IntelliChlor® Salt Chlorine Generator
1-Year In-Field Warranty