Lights and Water Features
Turn your yard into an inviting, after dark retreat
Our broad range of pool and spa lighting system options can turn pleasant poolside evenings into magical nights in your back yard wonderland. Our lighting systems have been the brand of choice worldwide for nearly 50 years. That's because we deliver the innovations, quality, reliability, energy-efficiency, and value pool builders and pool owners demand.
Choose from dazzling color-changing lights as well as standard white. Plus we offer niches and accessories to complete your pool lighting package.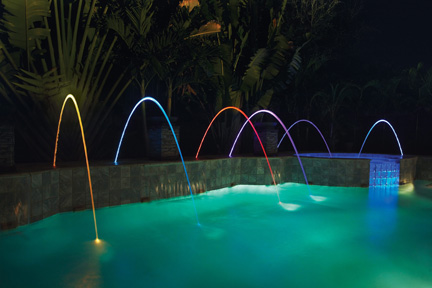 A rainbow of breathtaking underwater lighting effects
Our underwater color-changing lighting systems can transform a pool or spa into a luminous nighttime wonder. Pool owners can choose a constantly changing underwater light show. Or, pause and bathe their pool or spa in a single captivating color.
Click here to view all Lighting >>
Peace and Tranquility
With water effects you can add to the peace and tranquility of your customers' poolside experience a number of ways more economically than ever before. Plus, water effects allow their pool to sparkle with personality.
Click here to view all Water Features >>