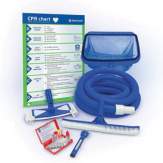 Handover Kits
Our hand over kits are the perfect equipment package every pool owner should receive. Every component in each kit plays an important part, from the CPR chart for emergency resuscitation to the standard leaf rake which will help to keep your pool clean all year long!
Components
  • 450mm deluxe brush.
  • Deep bag leaf rake.
  • 2-in-1 Rainbow DPD test kit.
  • Floating thermometer with cord.
  • CPR chart with latest CPR procedure.
  • Available with 9m, 11m or 15m hose.
  • Optional 2.4m - 4.8m telescopic pole.